The Benefits of a Sunroom Addition to Your Charlotte Home
There are many tangible and intangible benefits of a sunroom addition, especially here in Charlotte. A sunroom addition offers a lovely space that can be serene, functional, and perfect for entertaining. Best of all, your investment will likely pay for itself when it comes time to sell. Whether you prefer nature's beauty without all the pests or you simply want a place to bask in the sun year-round, your sunroom will offer all kinds of perks. 
Benefits of a Sunroom Addition
Here are some of the best reasons you should add a sunroom to your Charlotte home.
Pure Enjoyment
A sunroom can be viewed as a transitional space that offers all the best features of your indoor and outdoor areas. Here, you can lounge and enjoy the sun in an environment that's completely controlled without the worry about bugs, heat, humidity, and pollen levels. One day, your sunroom could be your home office in the morning and a playroom in the afternoon for the kids. It can also become a second living space or a hangout area where you can entertain friends.
Increases Your Home's Value
A sunroom addition is one of the most affordable ways to add value to your home. That means, when it's time to sell, you'll recoup a nice return on investment. Potential buyers are also quick to walk through a home that advertises a sunroom.
Better Health
Sunshine and the Vitamin D it produces have a number of health benefits. This includes better sleep, a decrease in symptoms of depression, and enhanced overall mood. With a sunroom in your home, you'll be able to reap all of these rewards year-round, no matter the weather outside.
Energy Savings
When designed with the right materials, your sunroom will help you to save significantly on your energy bill. That's because it allows natural light to flow freely into your home, keeping the room warm throughout the winter months.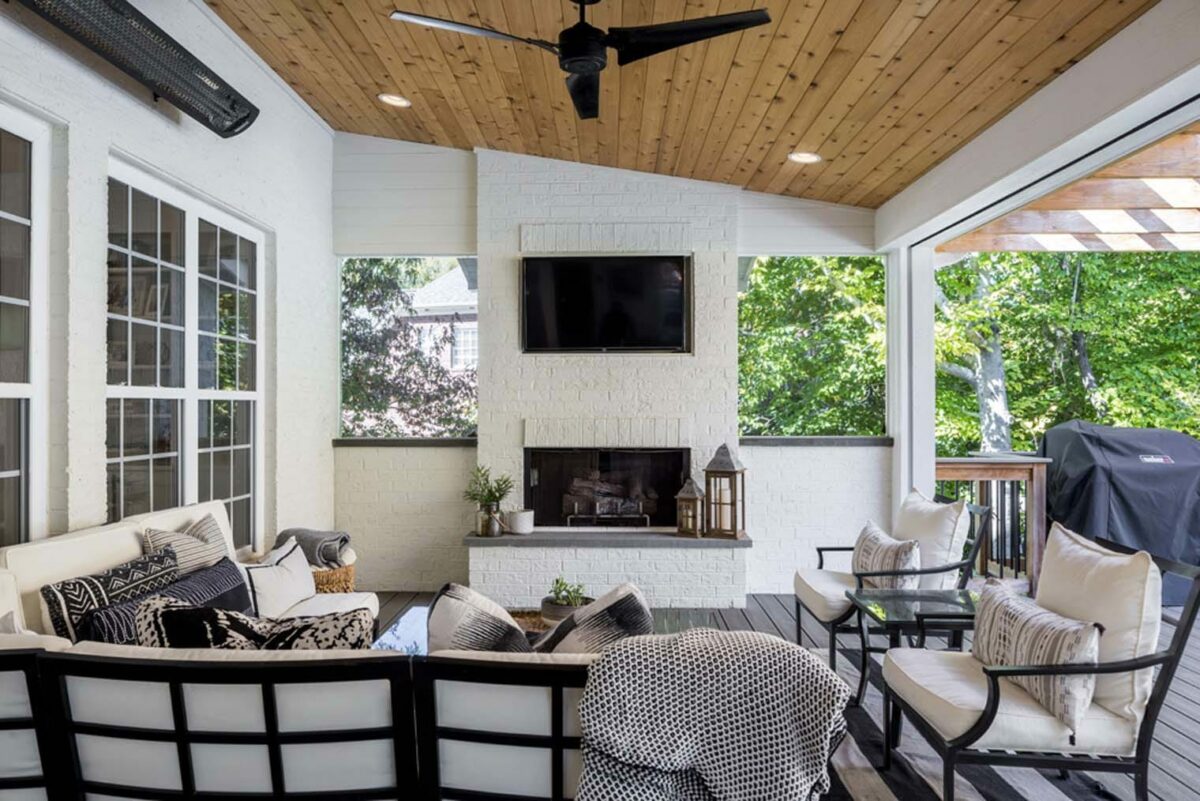 Designing a Sunroom Addition
When it comes to designing your sunroom addition, it's best to work with a professional. Your job is to consider the look and feel of your future sunroom; our job is to make it happen. Here are a few things to consider.
What Ambiance Are You Aiming For?
Your designer will ask a lot of questions to determine your personal style and how you plan to use the space. Your answers to these questions will help us get a feel for how you envision your sunroom to look and you plan on using the space. That way, we can design your sunroom with your unique style and practical goals in mind.
Heating and Cooling Options
During the design process, take steps to ensure that your sunroom will be comfortable throughout the year. Consider adding skylights that can open and close when the room gets too warm, or install EzeBreeze Windows that can be fully opened to allow airflow to permeate the room. A ceiling fan that operates in forward and reverse modes will be beneficial throughout the year, as well. And, if you want to take things up a notch, consider adding radiant floor heat or a wood-burning fireplace to your sunroom.
Build Your Dream Sunroom With GJK Building & Remodeling
A sunroom addition is a practical choice that offers a number of perks throughout the year. If you're ready to start designing yours, we're happy to begin the conversation with you and will be focused on providing you with a Life Remodeled.
Get some great ideas by browsing our sunroom portfolio, or if you are ready to get started on building your custom sunroom, contact us today.