What to Expect During a House Remodel
Are you ready finally work with a remodeling company to transform your home? While beginning the process is exciting and many people feel optimistic about the outcomes, the realities of remodeling are this: There is quite an emotional rollercoaster between signing a contract and the finishing touches.
We at GJK Remodeling know that a psychological component plays a part in every remodel for our clients. That's why we're here to help our clients understand what to expect during a house remodel. This will prepare you for the ride, guide you through the process, and allow you to find fun along the way.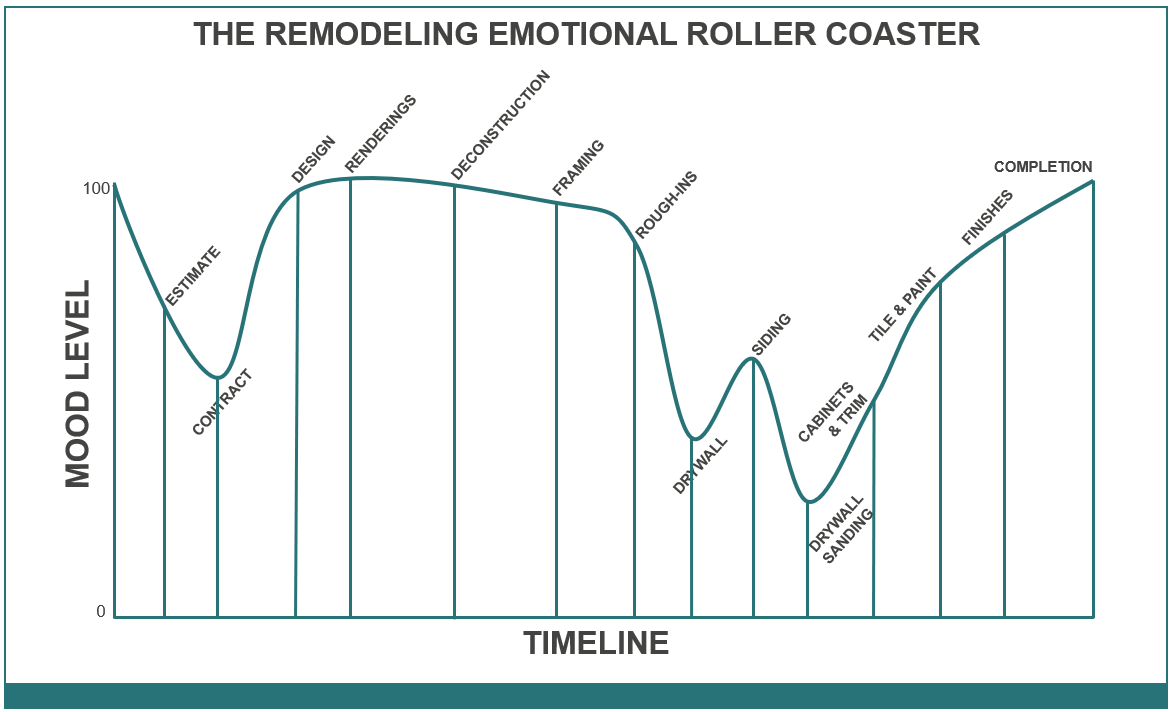 Your House Remodel Kicks Off
During the initial planning stages, there are a lot of emotions. There is some uncertainty and a bit of handwringing over the big decision to remodel which can make people feel uneasy, but there is also enthusiasm for what's coming ahead.
Estimate
Although you've probably been discussing your budget (and associated costs) throughout the initial conversations with your remodeling firm, the estimate is the point where your remodeling project becomes real and you may even experience a mixed set of emotions. Even though your estimate is within your budget, it can cause uncertainty, and you may ask, "Is this investment going to be worth it in the end?"
Additionally, sometimes unexpected costs may arise, too, as things can be discovered during the demolition stage that may cause a change in charges. After some pondering and additional questions, our clients are reassured that the transformation of their home will be worth the temporary discomfort and things progress to the next step.
Signed Contract
Once the contract is signed, clients tend to have the highest degree of happiness and satisfaction. There is adrenaline and excitement because they feel like their dreams will finally be realized. During this stage, it's important to allow yourself feelings of joy and eagerness because it's the beginning of something you've been planning for a long time.
Finalizing Design & Renderings
The design and rendering phase of the project is one of the most exciting times of your home remodel project – as you get to see all of your ideas come to life. Our clients visit our design showroom where they work closely with the design team to choose everything that will go into their newly remodeled space – and see it come to life before their eyes in a digital rendering. Our clients feel a sense of joy about the fact that they've decided to remodel as they see the colors, textures, patterns, and tiny details from top to bottom come together.
And don't worry if you don't feel entirely comfortable with design; that's why we are here. Our design team is top-notch. We'll make suggestions based on the information you've shared with us and expertly guide you through the process.
Demolition
When production begins, clients tend to feel mixed emotions. They can get a little uncomfortable as they watch their house undergo demolition. Unfamiliar materials are now being stored in their home, and people are coming in and out as they work. Even though they are excited for the remodeling project to be underway, clients sometimes feel that their space is being invaded, and their level of satisfaction begins to diminish.
Framing & Rough-Ins
Once demolition is complete, framing begins. This is where the space quickly changes, and homeowners often feel excited as they begin to see the new space start to become defined. It is often during this stage that clients think that the project could finish ahead of schedule. In our experience, this is not the case, and we caution clients not to get hopeful. Mechanical rough-in, inspections, insulation, and drywall are slower phases of a remodeling project. Despite our best project management efforts, there still could be a few delays along the way. It is at this stage where it's natural for clients to have their emotions slip because the reality sets in that there are still many steps to go before their project is complete.
Drywall
During the drywall stage, we see clients tend to hit bottom. Why? Because they stop seeing any visible progress as workers come and go without seeming to do anything. Then, during the drywall sanding stage—when the work is messy and loud—we've seen homeowners think that they've made a terrible mistake and question why they ever decided to remodel their home in the first place.
We're here to tell you that this is all completely normal. But if you can get through the drywall phase of your project, we promise that you'll begin to see progress again and think of your project differently.
Trim & Cabinets
The trim-out stage appears relatively straightforward but still seems to be moving at a snail's pace. However, when the cabinets arrive, the space starts to come to life again.
Once these functional and beautiful bathroom or kitchen cabinets are installed, people commonly have both highs and lows. While they are tired of having workers inside their home, they love watching everything come together. This creates a sense of optimism and hope.
Tile, Paint & Finishing Touches
As the tile is placed, the paint saturates the walls, the finishing touches come together, the anticipation builds, and joy is brought back to the remodeling project.
Completion
The completion stage brings excitement and relief that things are finally wrapping up. You will have a final walkthrough with the remodeling company, and you may feel a renewed appreciation for all the hard work it took to create your newly remodeled space. When you hit that point, you think, "It was worth it!"
Clients can return to everyday life, spend time furnishing and enjoying the new space, and relax in the beauty of the finished product.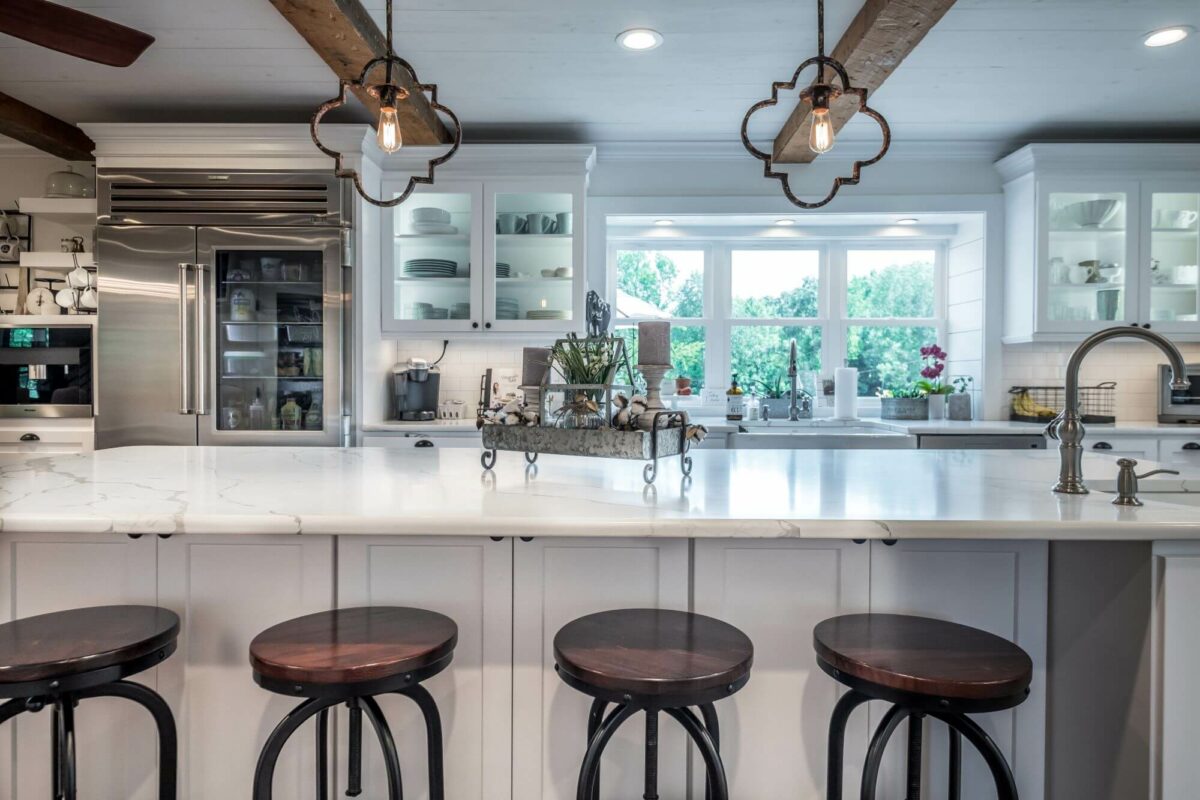 What to Expect During a House Remodel
As a well-experienced team of craftspeople, we understand the emotional toll that our clients face, and we are prepared to offer guidance, support, and reassurance during the entire process.
At GJK Remodeling, we care about your experience and offer a few tips on how to stay positive during those trying times:
Timeline Expectations. We will provide you with a project schedule and encourage you to follow along with us. This is a great way to prepare yourself for what's to come and will provide insight into what you can expect during each stage. Even if it seems to be a small, simple project, having a timeframe will allow you to plan around the big and little milestones.
Communication is Key. We believe it is essential that you know what's going on in real-time, which is why we are committed to communicating with you every step along the way. We provide you with a weekly email update (typically on Fridays) which contains your weekly invoice, what was completed for the week, and what to expect next week. We find this helps minimize surprises and prepare the homeowner for reasons behind any shifts in the schedule.  
Remember Why. From the beginning of the project until the end, it's important to remember why you chose to remodel your home. Perhaps it's because the kitchen's functionality needs to be improved, or you wish for a spa-like experience every time you use your primary bathroom. Try to keep the reason(s) in your mind and reassure yourself that all of this is temporary.
If you have a remodeling project in mind, give us a call at (704) 845-6036. GJK Remodeling is focused on providing you with a Life Remodeled. Contact us today and create the home of your dreams.