How Much Does a Kitchen Remodel Cost in Charlotte, NC
We often get asked, "How much does a kitchen remodel cost in Charlotte?" and the answer is, it can vary. A kitchen remodel is one of the most popular home improvement investments. As a mingling hub for gatherings, it can elevate the warmth and joy of the home. Remodeling a kitchen in Charlotte, NC, will not only please the family cook, but it will also increase the beauty of the home and boost its value. Whether it's small changes or a top-to-bottom remodel, a new kitchen will improve your daily life today and will make your home more appealing to buyers tomorrow.
Kitchen Remodel Cost Breakdown
In order to understand the average cost of a kitchen remodel in Charlotte, NC, you need to understand the three main categories that impact the overall cost of any remodeling project: the size, the design, and labor costs and materials. All will make up the total project cost.
The size of the project is the overall square footage of the space you are renovating, adding, and affecting (including adjacent spaces).
The design of the remodeling project. A kitchen remodel can get pretty pricey depending on what it is you're looking to improve. Enhancing the layout and flow of the room, customizing cabinetry and countertops, adding energy-efficient appliances, replacing lighting fixtures, and installing new flooring can all add up.
The labor cost and materials. Kitchen remodels will include plumbing and electrical connections and can include intricate tile backsplash installation, flooring installation, and more. And the type of kitchen cabinets and countertop materials you select (along with other items) will drive the total cost to remodel.
Average Kitchen Remodel Cost in Charlotte, NC
The biggest challenge homeowners have in achieving their ideal kitchen is worrying about the cost. Often homeowners simply do not know how much kitchen remodeling costs, so they talk themselves right out of exploring a remodeling project.
💡 Kitchen Remodel Budget Tip: The best way to know what you're going to spend on your kitchen remodel is to determine what you're willing to spend. Putting together a budget can help narrow down your options and make an overwhelming project feel realistic. Everything is better with a plan.
Begin with the understanding that there are two categories of remodeling projects: mid-range or major.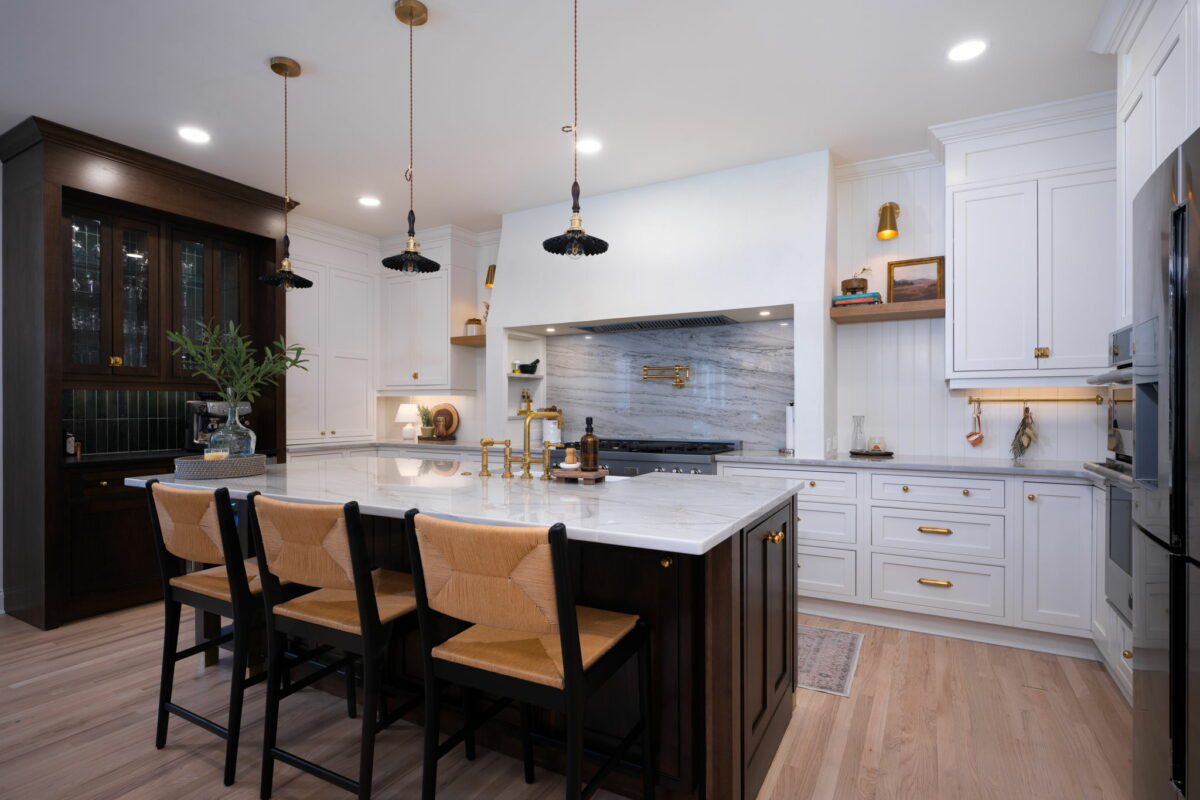 Major Kitchen Remodel: Mid-Range
Mid-range kitchen remodels can include a slight reconfiguration of the layout that will improve the functionality of the kitchen based on your specific preferences.
According to Remodeling 2022 Cost vs. Value Report, the average cost for a major mid-range kitchen remodel is $75,983 in the Charlotte, NC area. In our opinion, this is a good start; however, this figure does not include many of the popular features homeowners in our region have come to expect as standard in a kitchen remodel. These upgrades include quartz or soapstone countertop materials (not laminate as noted in the report); tile backsplash, enhanced lighting options and upscale sinks (not a double stainless steel, as noted in the report).
In the Charlotte, NC area – in particular, Matthews, Weddington and Waxhaw (the areas we serve) – the starting point for a kitchen remodel is between $80,000 and $100,000.
Major Kitchen Remodel: High-End (or Upscale)
This type of remodel may include a complete redesign of your kitchen and focuses on high-quality finishes, paints, fixtures, appliances, and specialized lighting. You'll also expect to see the addition of a butler's pantry, glass-front cabinetry, and highly customized features that make your kitchen uniquely yours.
While the average cost of an upscale kitchen remodel will cost $153,030 (according to the 2022 Cost vs. Value Report), in our experience, this level of remodeling often includes structural changes to the kitchen space (and adjacent areas) that can include relocating plumbing, electrical and HVAC. When combined with the selection of commercial-grade appliances, top-of-the-line kitchen cabinets, cabinet hardware, tile floors, light fixtures and more, it's not uncommon to have a kitchen remodeling budget above $200,000.
There is a lot to think about when you are deciding on the best kind of kitchen remodel for your home. Budget, time, and desire will all determine what type of project is right for you.
Whether you're ready to dive in and get started on your kitchen remodel or you're just exploring the feasibility of a remodeling project, GJK Remodeling is here to give you a Life Remodeled. Contact us today.