Get Inspired: Bathroom Design Trends To Transform Your Space
At GJK Remodeling, staying on top of the home project and design trends is one of our favorite things. In Charlotte, North Carolina, we have seen a lot that excites us, including how people renovate and remodel their bathrooms. From sleek lines and geometric patterns that combine elegance with character to warm colors and nostalgic accents that evoke relaxation and rejuvenation, people are creating bespoke spaces that truly reflect their wants and personalities. In this article, we'll introduce some of the top bathroom trends we are most excited about.
Bathroom Design Trends in 2023
In 2023, a bathroom remodel is all about customization as people are transforming their primary bathrooms and powder rooms. Gone are the days when these places in the home were purely functional. Now more than ever, people are recognizing that there is massive design and decor potential. Here are some of the latest bathroom designs that we love.
A Tale of Tile
Tile can tell a story, and we're noticing it everywhere in bathrooms right now. It's exciting to see the variety of options, use, and design varieties. Large format and matte floor tiles are having their moment due to the sophistication level they add (and the bonus is they don't show smudges and watermarks the same way a gloss finish does). Subway tiles, either in straight rows or herringbone, are a contemporary and cool addition, while textured tiles in natural stone can add interest and style. Terrazzo tiles, made of a mix of marble, quartz, granite, glass, or other materials, are having a renaissance, according to Forbes, and are popular in North Carolina homes.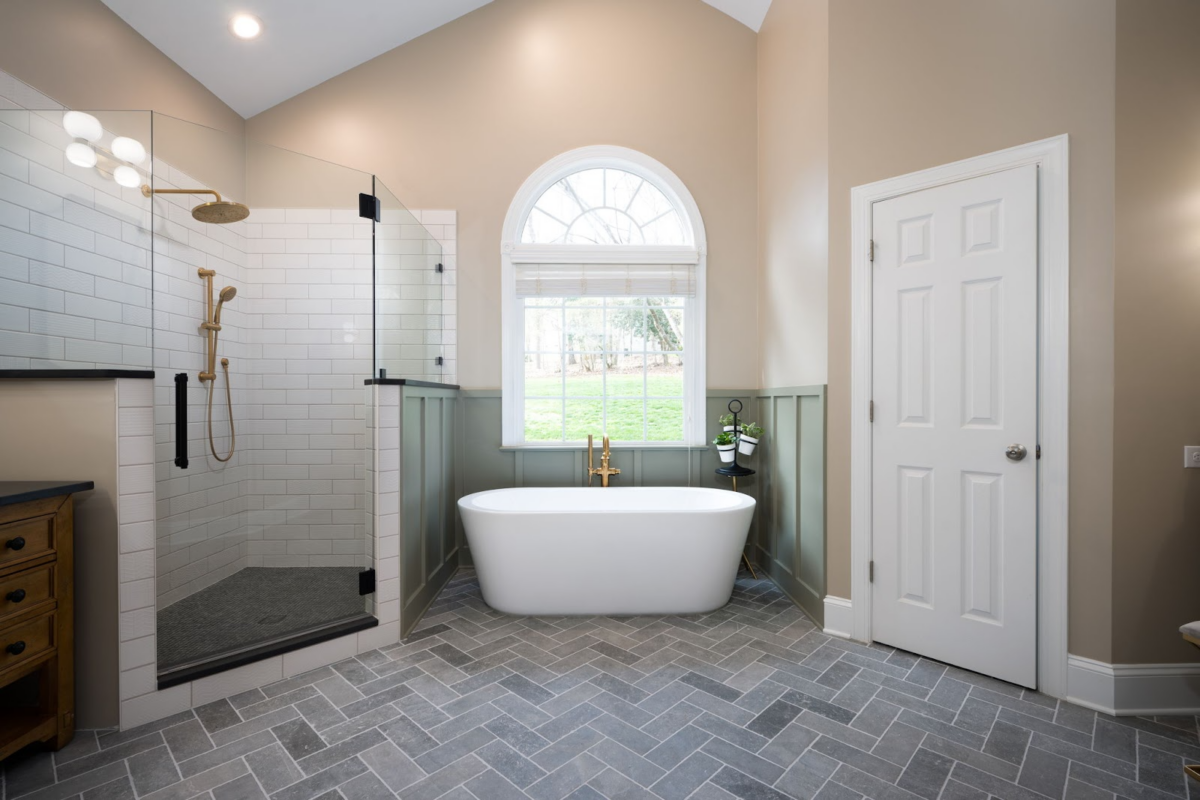 Shower Makeovers
Whether it's a walk in shower or a freestanding tub (or both) that you long for, most homeowners think about a stylish bathroom that separates the bathtub and shower. Walk in showers today are designed with features such as benches and shower niches to store products. Hand showers paired with regular shower heads provide more bathing options. Additionally, due to their safety and versatility, they are an ideal solution for those who plan on aging in place. Glass shower doors with a texture or frosted finish have resurfaced, and there are ways of modernizing this throwback trend. Some bonuses are that this can add an organic feel, provide additional privacy, and add separation from the rest of the bathroom area to increase the oasis feeling. Freestanding tubs in the primary bathroom are still a popular, top-quality option and a recommendation from the GJK remodeling experts.
Luxurious Countertops
Surface choice can increase the elegance of the bathroom, and just like in kitchens, people are leaning towards quartz and quartzite. However, bold and dramatic marble countertops have become a perennial favorite for bathrooms and small spaces. No matter which material you choose, the impact is stunning when done correctly.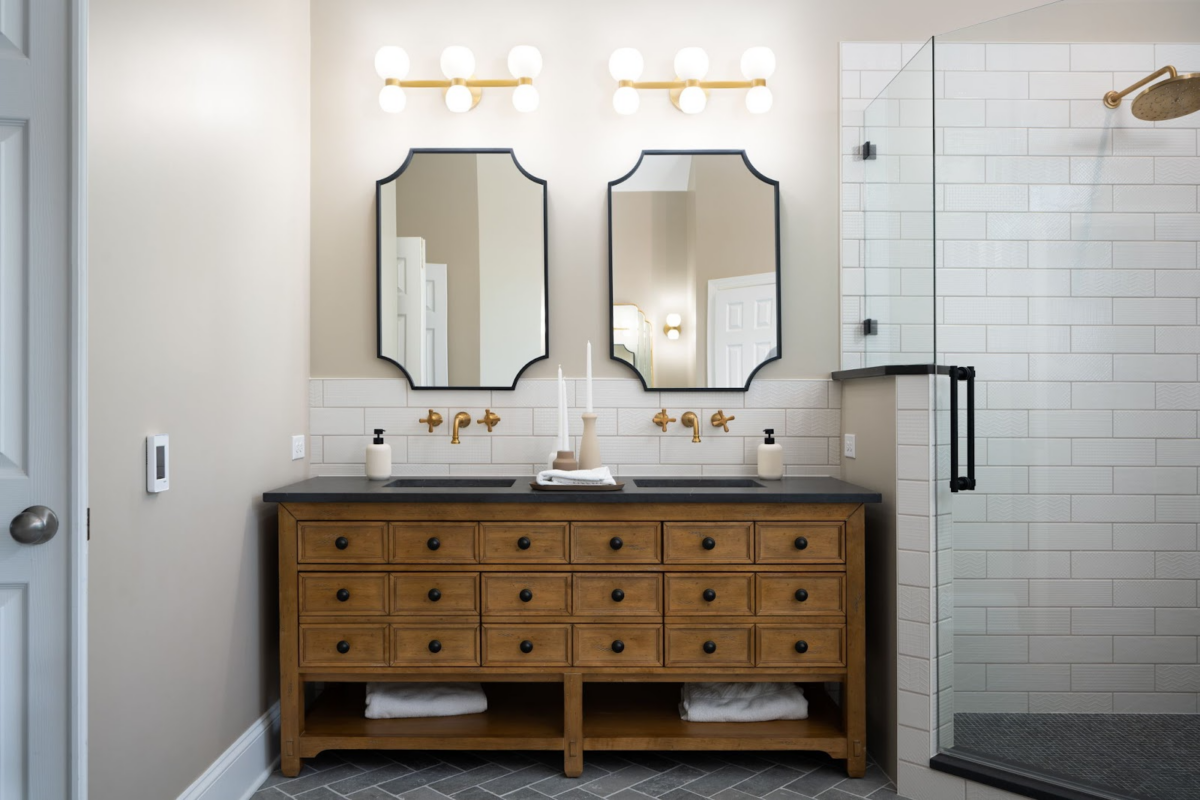 Cabinets and Sinks
Cabinets with character are trending, and whether it means opting for light wood stains or moodier paint, people are more apt to take risks with bathroom colors in this area. Earth tones with different nature-inspired shades used together in various hues and saturations provide a classic aesthetic to bathrooms in 2023. Statement sinks in bright colors make a splash and can be paired well with a neutral color and provide a balanced palette to work in decor and plants.
Like with kitchen design trends, we also see mixed hardware as people play with metal varieties in brushed nickel and aged bronze. No longer do cabinet pulls and knobs need to have the same exact metal throughout the space; they can be mixed and matched as long as the fixtures tell a cohesive story. While wallpaper is still trending, smaller spaces, such as powder rooms, are where bold patterns and bright colors make the greatest impact.
Floating Vanities
Bathroom vanities contribute to the overall mood of the space, so people are opting to make them interesting. More and more people are selecting wall-mounted vanities because they are both beautiful and practical, and in 2023 these are a clear winner. They easily modernize the room while simultaneously taking up less space, which increases cabinet storage and organizational compartment options. If a glamorous, luxurious transformation of the space is the desire, one-of-a-kind, beautifully mounted mirrors housed in decorous framing can mix classic and elegant materials and introduce subtle textures, providing a stylish and timeless design.
Heat Things Up
No bathroom remodel is complete without the incorporation of heat throughout the space. Gone are the days when you must step out of the shower onto the ice-cold tile. Heat is coming through in a big way, and we at GJK Remodeling are experts in everything that brings comfort and peace to your home. You name it, and we've heated it. Radiant floor heating, heated towel bars, and even heated toilet seats are in demand as these items elevate the space from cozy to deluxe.
Powder Room Design
When it comes to the powder room, adding a little pizzazz with creative bathroom design can create a unique and stunning space. Homeowners can feel free to let their creativity flow with interesting materials and textures, pops of color, sculptural shapes, unique lighting fixtures, wallpaper or art installations that serve as focal points, and other modern touches that add flair to the area. Homeowners can create an amazing space that will leave guests in awe by focusing on bathroom design specifically tailored for the powder room.
When you're in the process of designing your dream bathroom, it's fun to explore options and see what's trending in the world of home remodeling; however, nothing is more important than thinking about how the elements will come together and complement your life. If you're ready to get started, contact one of our professionals at GJK Remodeling and begin your journey toward a Life Remodeled.