Bringing the Latest Kitchen Design Trends into Your Home for 2023
The designs of kitchens have changed over the years, and what was once en vogue may now make a kitchen look dreary and dated. Let's look at some popular kitchen design trends we're seeing in Charlotte that will make your kitchen look stylish in 2023.
Cabinet Trends
The right kitchen cabinets can transform your kitchen into a modern space. White cabinets have been trending for several years. However, a transition is happening as tastes shift from white to natural wood finishes, like oak. Additionally, homeowners opt for painted cabinets in warm hues like taupe and mushroom instead of the cool grays of years past. Green kitchens are in, too!
Vertical shiplap makes cabinet doors look modern and fresh, and many homeowners are incorporating black iron cabinets with glass panes into their kitchen designs. Open shelves are also the perfect solution for spaces that are too small for a cabinet, especially in bar areas and coffee nooks.
Kitchen Hardware and Fixtures
This year, it's all about mixing metals. Gone are the days of choosing between stainless steel fixtures or matte black drawer pulls. Instead, homeowners are mixing and matching metals in their kitchens, which provides many new styling options. Still, if you decide to go this route, you'll still want cohesiveness. For this, make sure all like-items match, such as matching drawer pulls, even if the knobs are a different metal.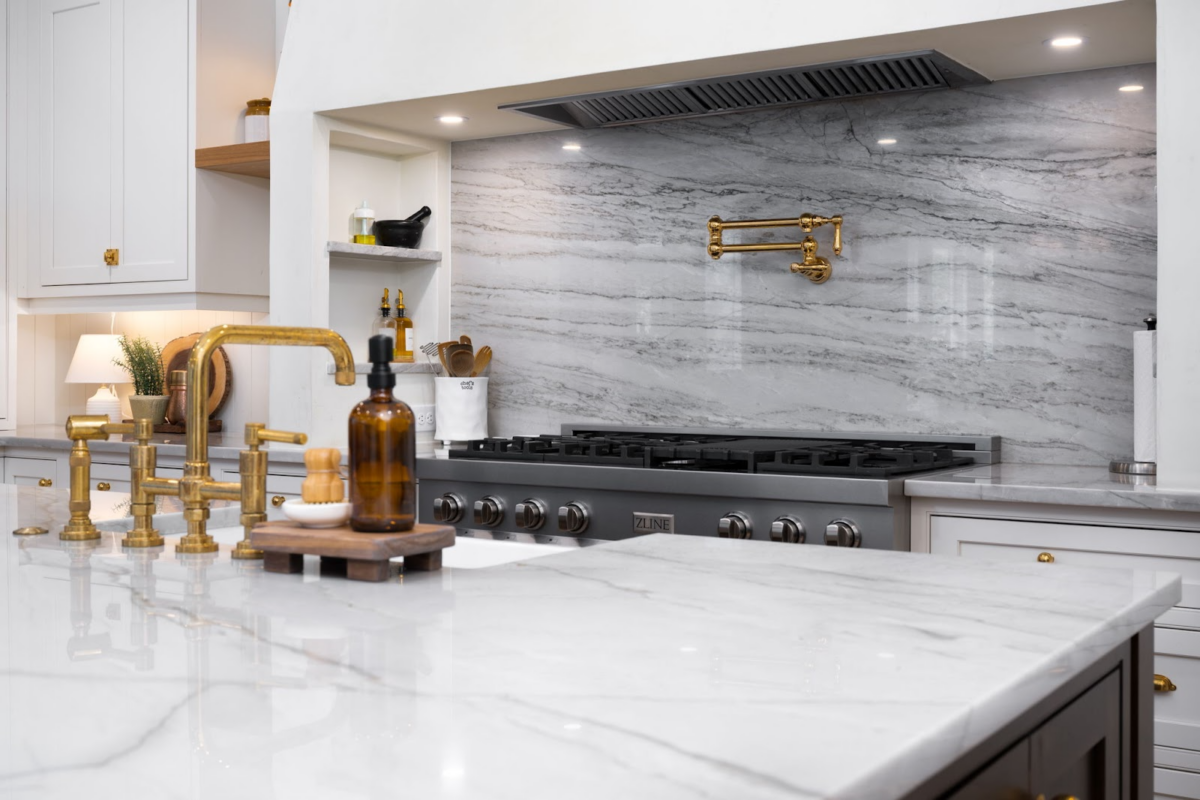 Countertops and Backsplash Designs
Current backsplash trends are busy and fun. 3-dimensional tile and basketweave patterns are popular, and many homeowners opt for big slab backsplash. This design uses the same materials for the backsplash and countertops, giving the illusion that the countertops flow up the wall. As for countertop materials, we're seeing lots of quartz and quartzite.
Kitchen Sinks
Farmhouse style-sinks are trending in materials like granite composite. Many homeowners also update their kitchens to include a sink integrated with the countertops to make things look seamless and clean. Workstation sinks are another popular choice for kitchen remodels, and for a good reason. They look modern and sleek, and they're incredibly practical.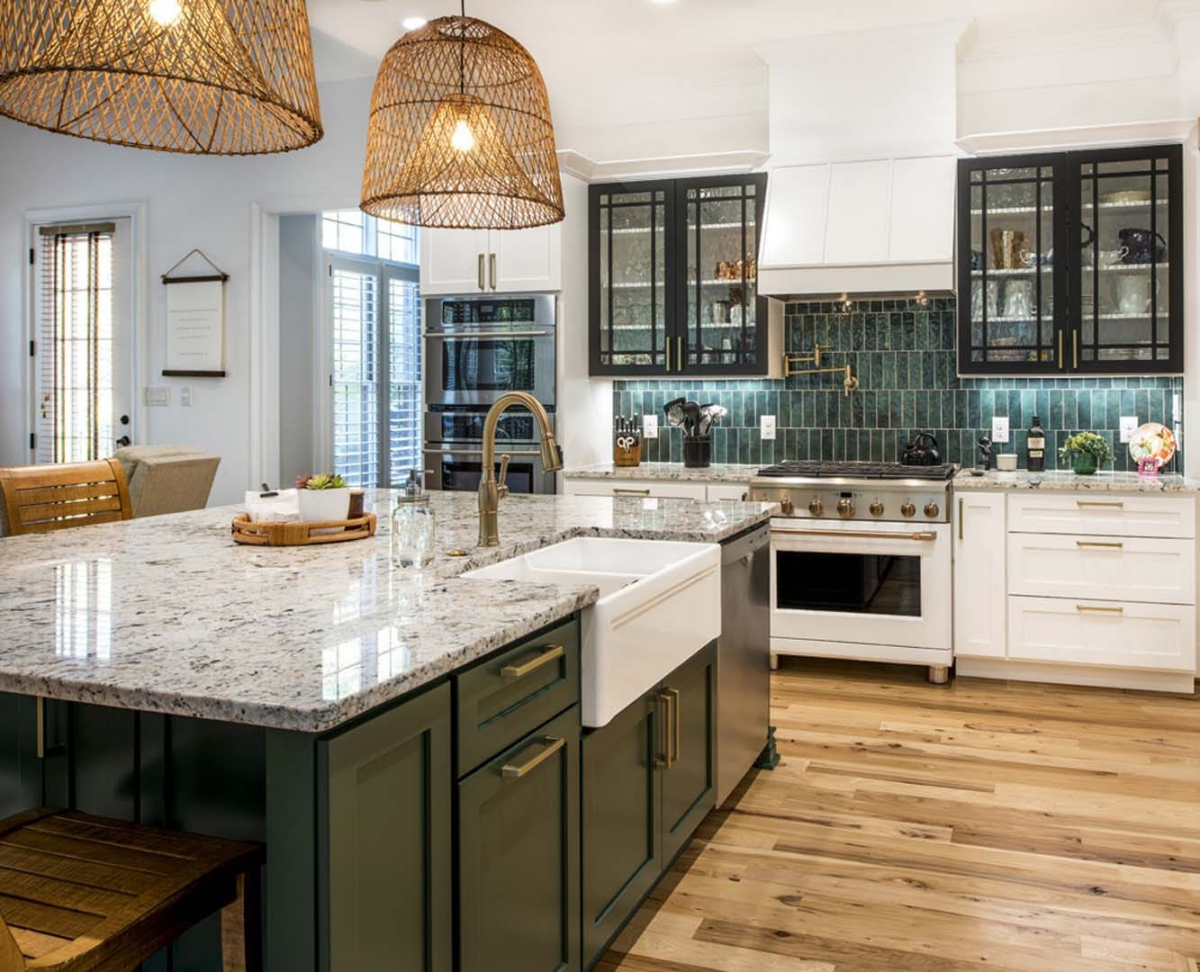 Modern Lighting
Our rule of thumb is that you can never have enough kitchen lighting! We believe bright kitchens will never go out of style. There are several ways to add lighting, and it's best to utilize several different methods. Under the cabinet lighting can brighten countertops, making meal prep a breeze. Oversized pendant lighting looks fabulous over a kitchen island, and sconces are also starting to make their way into kitchens.
Kitchen Islands
A kitchen island is a great addition when you've got enough space. They're perfect for meal prep and make a great place to socialize with friends and family over a meal or snack. Often, our team integrates seating options into kitchen island designs, and we install additional seating in breakfast nooks. That way, you've got more options for friends and loved ones to gather.
New Appliances
Large kitchen appliances are both practical and stylish. Big wine and beverage coolers make it easy to entertain, and many homeowners are opting for professional ranges at least 36 inches wide. Under-the-sink water filtration systems are also a popular kitchen addition. They just make it easy to have clean water at the turn of a knob. Storage solutions like appliance garages, pocket doors, and microwave drawers make it easy to hide your appliances when they're not in use.
Flooring Ideas
Many different flooring options can make your kitchen look modern and clean. Laminate wood flooring is trending this year, especially in light shades like oak. Best of all, laminate wood is inexpensive and easy to clean.
Update Your Kitchen With GJK Remodeling
Our team at GJK Remodeling can turn an outdated kitchen into a modern space that you'll be proud to show off. Contact us to discuss how to incorporate kitchen design trends into your Charlotte home so that we can give you a Life Remodeled.