Planning Your Outdoor Kitchen in Charlotte: Everything You Need to Know
When it comes to enhancing the overall aesthetic of your backyard, nothing quite compares to the charm and functionality of an outdoor kitchen. Transforming your outdoor space into a culinary paradise not only increases your property's value, but it also creates an inviting atmosphere for family gatherings and social events. This article will walk you through everything you need to know about planning your outdoor kitchen in Charlotte, ensuring you have the necessary knowledge to make informed decisions as you work through the design process with your professional remodeling company.
Benefits of Having an Outdoor Kitchen
An outdoor kitchen offers many benefits beyond merely providing an outdoor kitchen space to prepare meals. Here are the top three:
Increased Your Home's Value
One of the most tangible benefits of an outdoor kitchen is its added value to your property. Like an indoor kitchen remodel, an outdoor kitchen is highly desirable; therefore, it has a high return on investment.
More Living and Entertaining Space
Outdoor kitchens provide additional living and entertaining space, perfect for family gatherings, friendly get-togethers, or even quiet evenings. A well-designed outdoor cooking space can be cozy and welcoming, offering a charming and comfortable space to dine, entertain, and relax.
Healthier and More Enjoyable Cooking
Cooking outdoors can also be a healthier and more enjoyable way to prepare meals. Grilling food results in less oil and fat compared to conventional cooking methods. Plus, the experience of cooking outside amidst nature can be a delightful change of pace from the norm.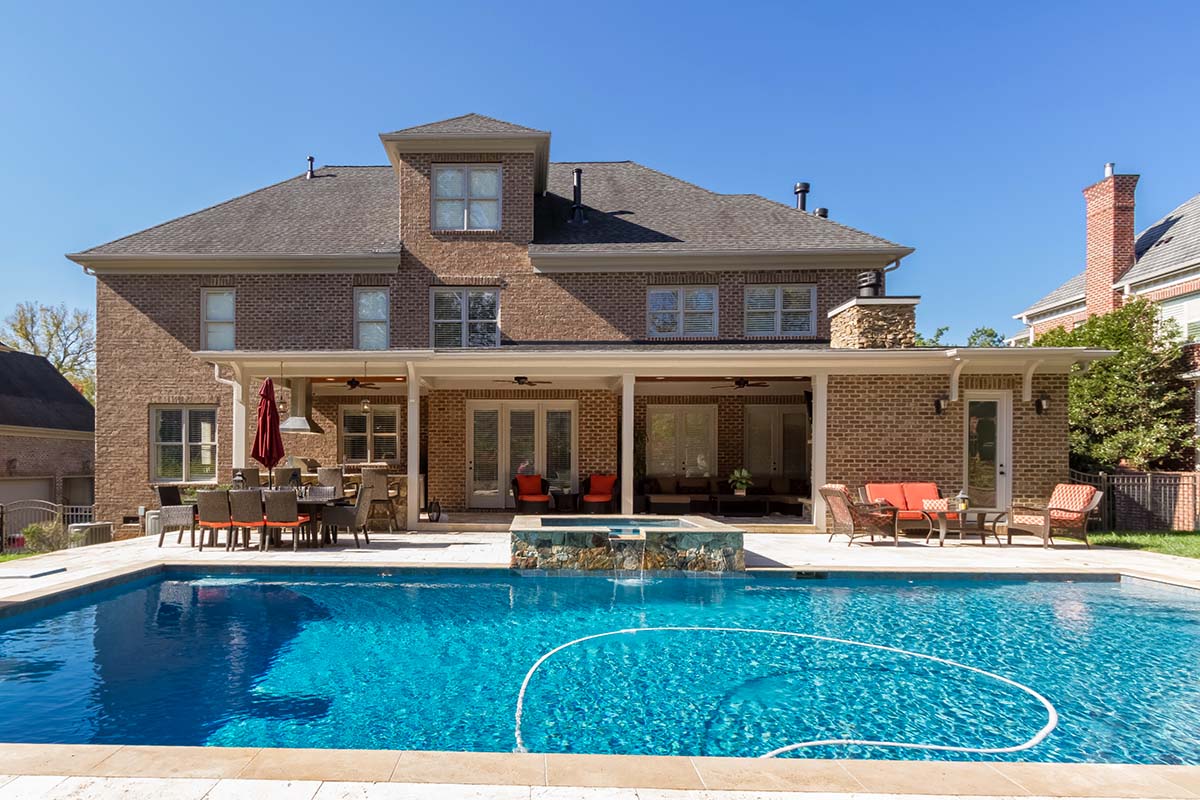 Planning Your Outdoor Kitchen
There are two primary factors that require careful consideration when planning your outdoor kitchen: the location and the layout.
Choosing the Location
The location of your outdoor kitchen is crucial and depends largely on the layout of your backyard. You want a spot easily accessible from your main house, especially if you plan to shuttle food and utensils back and forth. If feasible, it's also wise to consider the direction of the wind to avoid smoke from the grill blowing into your house or dining area. Also, keep in mind the view and the amount of natural shade the location has, as these will significantly impact your outdoor dining experience.
Deciding the Layout
When considering the layout, think about how you'll use the space. If you plan to host large parties, you might want an open layout incorporating an outdoor living room with plenty of seating and a large grill. Conversely, a more intimate setting with a small dining space might suffice if it's a space primarily used for family dinners. Consider including essential elements such as a grill, sink, fridge, and cabinets for storage (see the full list below). The layout should allow for a smooth flow of movement between these areas and always leave enough space to cook safely and for comfort.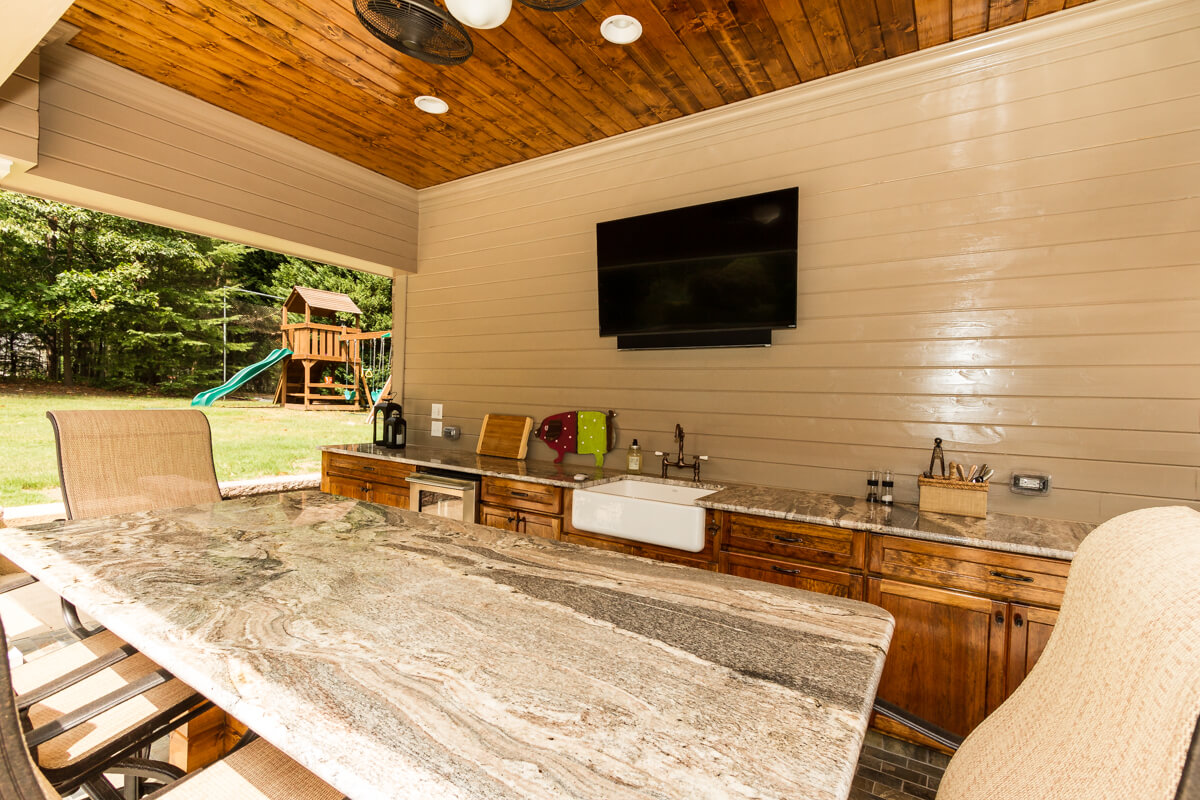 Popular Features of Outdoor Kitchen Designs
Multiple cooking areas
Multiple cooking areas are a fantastic feature to include in an outdoor kitchen design. This feature allows for greater flexibility and efficiency in preparing a variety of dishes simultaneously, making it ideal for large gatherings and parties. Some popular outdoor cooking options in Charlotte include:
A smoker grill, such as the Big Green Egg or a Traeger
A wood-fired pizza oven (which can be used for more than baking pizzas)
A flat-top grill, like a Blackstone
A built-in grill
With multiple cooking areas, it's possible to grill main courses on one, keep side dishes warm with another, and perhaps even bake a dessert in a wood-fired oven without jostling for space or waiting for one dish to finish before starting on another. Additionally, because the weather is so mild here in Charlotte in the late fall and winter months, it opens up cooking options during the holiday season and for "big games" – allowing you to get year-round use from this space.
Outdoor Dining Area
A well-designed dining area can transform outdoor meals from simple barbecue sessions to elegant alfresco dining experiences. When designing your dining area, consider factors such as size, layout, and furniture. The size should accommodate your typical number of guests. The layout should allow for ease of movement, and the chairs should be comfortable and weather-resistant. You may want to consider adding a pergola or umbrella for shade on sunny days and outdoor lighting for evening gatherings. With careful planning, this stylish area can be the perfect spot for enjoying home-cooked meals under the open sky.
Bar seating
A bar island is a great addition to any outdoor kitchen, especially because it adds a social element to the cooking experience. It's also great for serving appetizers or drinks before the main meal. When designing your bar, consider the height and comfort of the bar stools, the overhang of the counter for legroom, and the material of the bar top. Choose materials that are easy to clean and will withstand the weather elements.
Stainless Steel Appliances
Stainless steel appliances are a popular choice for outdoor kitchens, and for good reason. They offer a sleek, modern aesthetic that can easily blend with architectural styles and outdoor décor. They are also durable and resistant to the elements, so they can withstand varying weather conditions, from harsh sun to heavy rain, without rusting or discoloring.
Most people think of refrigerators and sinks, but what about some of these other appliances that would make entertaining and enjoying your space that much easier:
Dishwasher: No more hauling dishes back and forth to the indoor kitchen; a built-in dishwasher can save time and hassle.
Ice maker: Keep cold drinks flowing all day with an outdoor ice maker. Perfect for hot summer days!
Warming drawer: This appliance is perfect for keeping side dishes warm while you finish grilling your main course.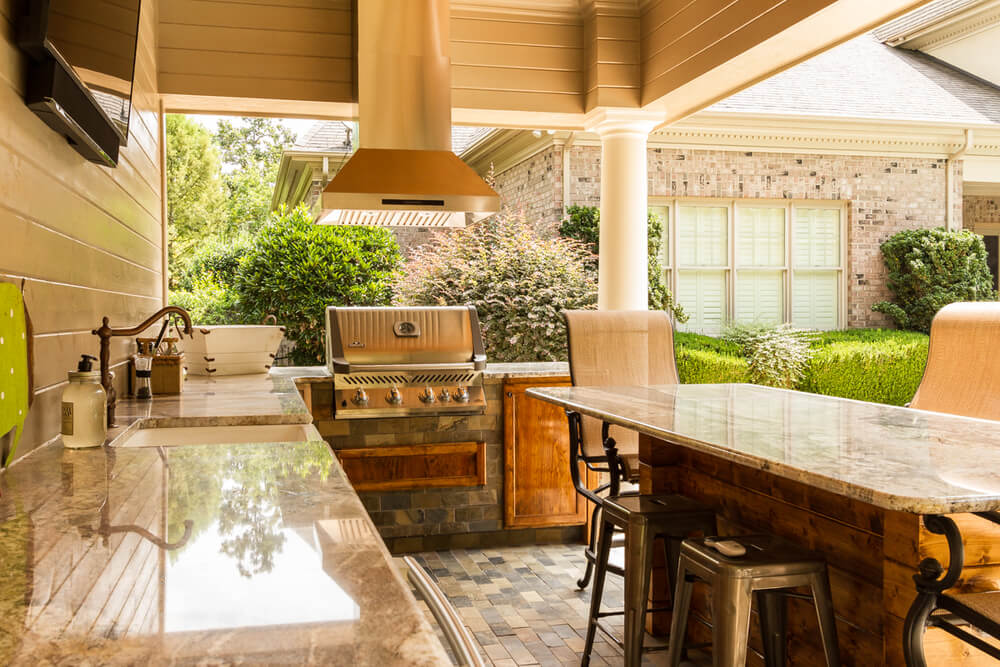 Other Outdoor Kitchen Ideas to Consider
Let's explore more outdoor kitchen ideas that could further enhance your outdoor living experience. From functional features to aesthetic elements, these ideas can transform your outdoor space into a personalized culinary paradise.
Fire Feature: Consider incorporating a fire pit or an outdoor fireplace for warmth and a cozy atmosphere. These elements can extend the usability of your outdoor space into the cooler months and provide a focal point for your guests to gather around.
Television: For those who love to entertain, adding a television can take your outdoor kitchen to the next level. You can watch the game while grilling or watch a movie under the stars in the great outdoors.
Natural Gas: Rather than dealing with the hassle of replacing propane tanks for your grill, many prefer to have a natural gas line directly connected to their grill. In most cases, this is a feasible option.
Ceiling Fans: On hot summer days, ceiling fans can provide much-needed relief from the heat. They keep you and your guests cool and help circulate air and prevent smoke and cooking smells from lingering in one spot.
Grill Hood: Consider incorporating a range hood into your outdoor kitchen design. This feature helps to vent smoke and cooking odors.
Outdoor Sink: An outdoor sink allows for easy clean-up and minimizes the need to run inside constantly for water. Additionally, it can double as an ice bucket or a place to chill drinks during parties.
Built-in Storage: Cabinets or shelves can store utensils, dishes, and other cooking essentials to keep your space organized and make things easily accessible while cooking.
Personal Touches: Lastly, find creative ways to add some personal touches to your outdoor kitchen. This can be anything from potted plants and hanging lights to artwork or a personalized sign. These small details will make your space feel like an extension of your home and reflect your unique style and personality.
With these ideas in mind, you can create an outdoor kitchen that meets your functional needs, reflects your style, and enhances the overall aesthetic of your outdoor dining area. We'd be happy to discuss planning your outdoor kitchen with you – so you can experience a Life Remodeled.