Outdoor Living Spaces in Charlotte, NC: Ideas from a Remodeling Pro's Perspective
Outdoor living spaces have gained significant popularity in Charlotte, NC, as homeowners seek to extend their living areas beyond the confines of their interior spaces. As a seasoned remodeling contractor, we've had the pleasure of transforming numerous backyards into beautiful, functional outdoor spaces. In this article, we'll explore some innovative ideas for adding outdoor living spaces tailored to the unique needs and lifestyle considerations of homeowners in Charlotte.
The Popularity of Outdoor Living Spaces
First, consider why outdoor living spaces are so popular in Charlotte, NC. For starters, the climate is ideal for enjoying the outdoors. With mild winters and warm summers, residents can comfortably spend time outside almost year-round. Additionally, with the city's beautiful natural surroundings and close proximity to mountains and beaches, homeowners in Charlotte have a strong desire to connect with nature.
Moreover, there are many benefits for remodeling your outdoor living space. It increases the overall value of your property, provides more living space for you and your family to enjoy, and can even improve your mental health by providing a peaceful retreat from the stress of daily life.
Ideas for Outdoor Living Spaces
Now that we understand why outdoor living spaces are so popular in Charlotte let's dive into some creative ideas for transforming your backyard into an inviting and functional outdoor living space.
Decks and Patios
Decks and patios are quintessential components of outdoor living spaces, serving as a foundation for various functionalities. Decks, typically made of wood or composite materials, can be built at ground level or elevated, offering a vantage point to enjoy the surrounding views. They can be customized with built-in seating, planters, or even a hot tub for the ultimate relaxation.
Patios, on the other hand, can be crafted from concrete, brick, or stone, providing a durable and low-maintenance solution for outdoor living. They can be designed in various shapes and sizes, blending seamlessly with the landscaping. Decks and patios offer an inviting space for outdoor furniture, a grill, or a fire pit, creating the perfect outdoor entertainment and relaxation setting.
Porches and Sunrooms
Porches and sunrooms are another fantastic addition to your outdoor living space. Porches, whether they are open or screened, allow you to enjoy the outdoors while being sheltered from the elements. They are excellent places to sit with a cup of coffee in the morning or unwind with a book in the evening.
Sunrooms are typically enclosed with glass or screens (we often use Eze Breeze windows) and provide a more controlled environment, making them a perfect retreat for all seasons. With a sunroom, you can enjoy natural light and views of the outdoors from the comfort of an enclosed, temperature-controlled space. These rooms can also be equipped with comfortable furnishings, a dining table, or even a small indoor garden, offering a versatile space customized to fit your needs and preferences.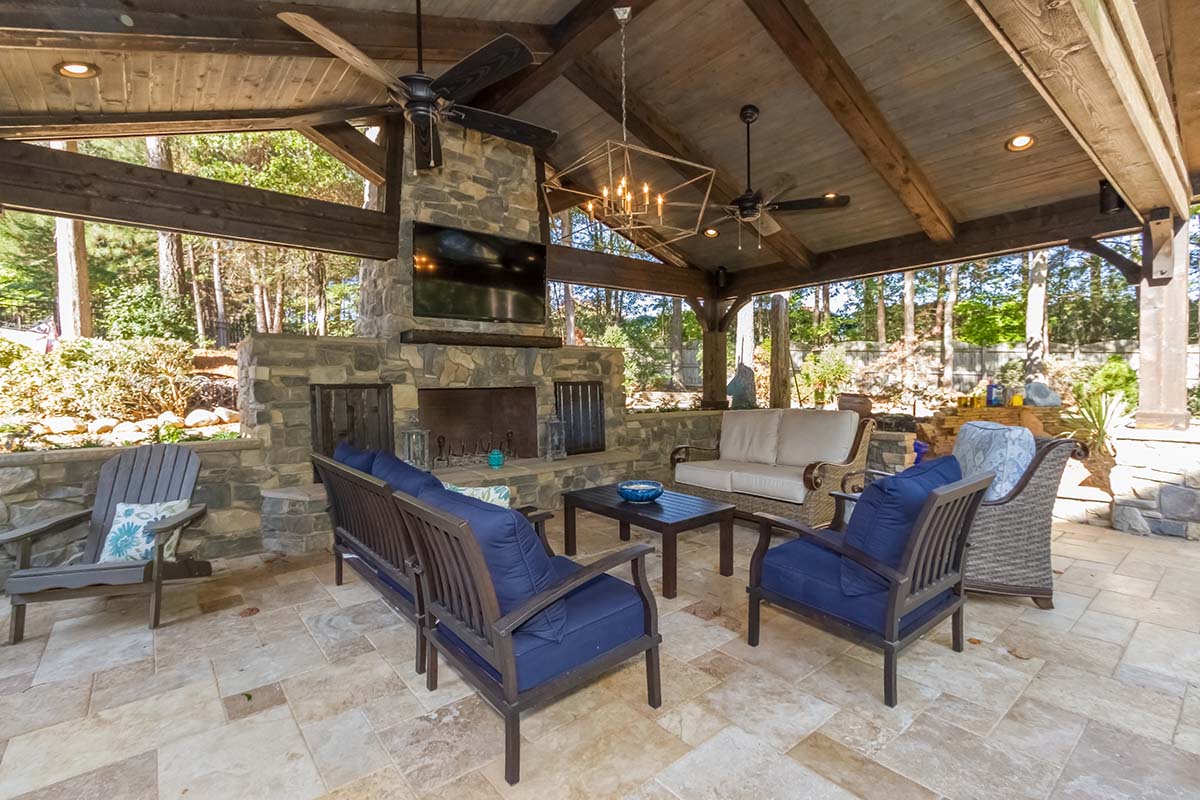 Outdoor Living Room
The outdoor living room is one of the most popular and sought-after outdoor living spaces. Like your interior living room, an outdoor patio can be customized to your specific needs and style preferences. This type of outdoor space is typically a covered area on the backside of your home that includes a comfortable seating area, coffee tables and usually a television for viewing the big games!
Start by choosing comfortable, weather-resistant cushioned furniture and throw pillows that encourage relaxation and conversation. Add a stone or brick wood-burning fireplace to provide warmth for cooler nights (it can also act as a stunning focal point.) And don't forget to add some lighting for ambiance and functionality.
Outdoor Kitchen and Dining
An outdoor kitchen and dining area is another excellent idea for transforming your outdoor space into a functional and welcoming extension of your home. With an outdoor kitchen, you can prepare meals while enjoying the delightful weather and beautiful surroundings, turning every cooking experience into a mini-vacation. Equipped with necessary appliances like a built-in grill, a refrigerator, and a sink, this area becomes perfect for hosting barbecues and family dinners. You can install a wood-fired pizza oven or a built-in outdoor bar for serving drinks to take it up a notch. For the dining section, consider installing a large table with ample seating. Opt for durable materials that can withstand the elements, and add an overhead pergola or umbrella for shade on sunny days. Now you have an outdoor oasis for entertaining.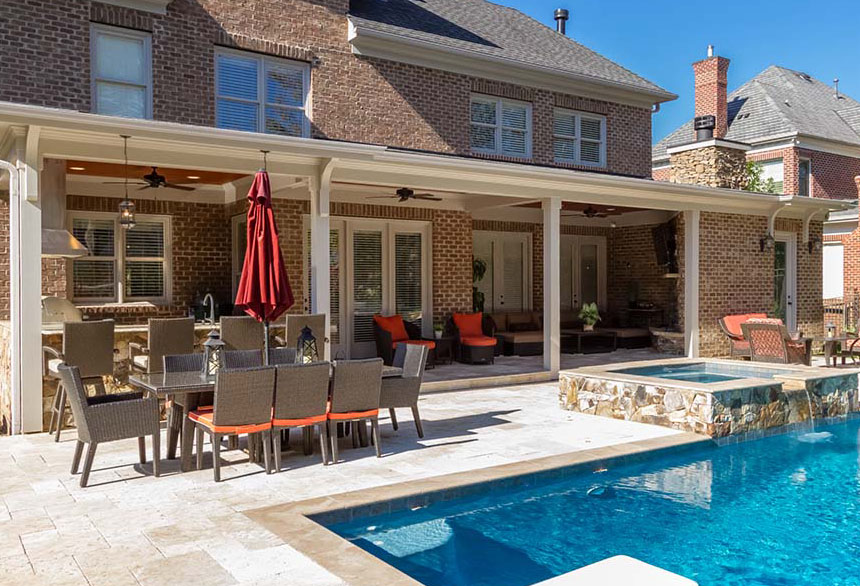 Poolside Paradise
A covered pool patio can transform your backyard into the perfect summer retreat. If you already have a swimming pool or are considering installing one, think about incorporating a poolside lounge area. This can include comfortable, waterproof lounge chairs for sunbathing and a shaded cabana for a break from the sun. Include a mini outdoor bar or fridge for easy access to beverages, and consider installing an outdoor shower for post-swim rinses. To enhance the ambiance, add lush tropical plants and lights for evening swims. This poolside paradise will make every day feel like a vacation in your own backyard.
Case Study: https://remodelwithgjk.com/portfolios/covered-pool-patio/
Pool House
A Pool House can be a valuable addition to your backyard oasis, providing both functional and aesthetic benefits. It can serve as an inviting space for guests to change, a storage space for pool equipment and outdoor furniture, or even as a guest house. When designing your pool house, consider incorporating amenities like a bathroom, a small kitchenette, and plenty of seating area. From a design perspective, you could opt for a structure that mirrors the architectural style of your home, or choose a distinct design that stands out as a unique feature in your backyard. Incorporate large windows and doors for natural light and easy access to the pool. With thoughtful planning, a pool house can significantly enhance the comfort and convenience of your outdoor living space.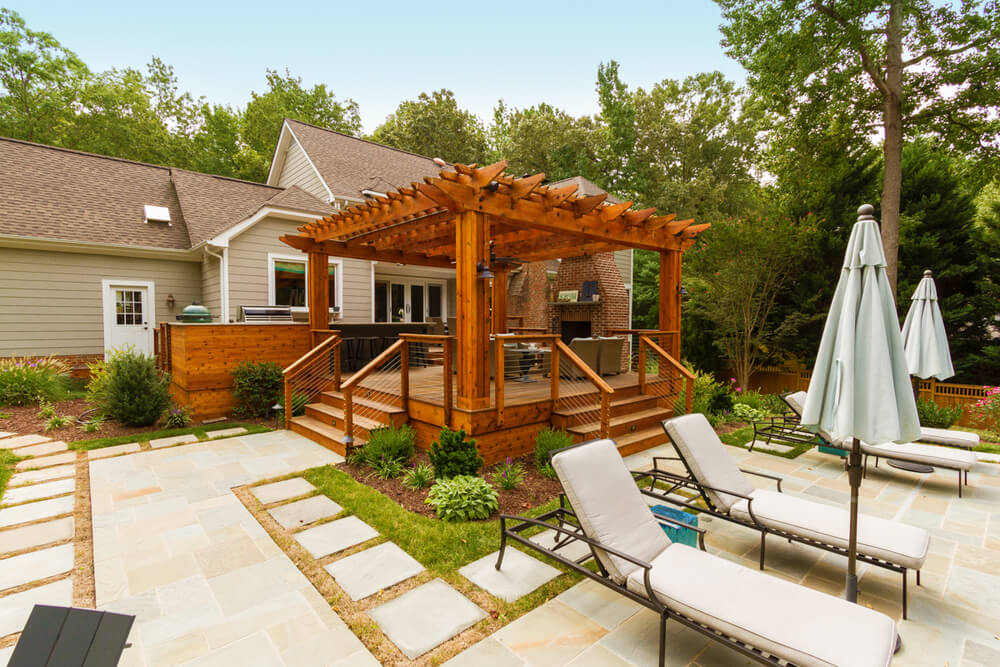 Pergolas
A pergola is an excellent outdoor space addition, providing shade from the sun and beauty. These structures can be either freestanding or attached to your house, making them versatile for any backyard layout. Pergolas are typically made of wood, metal, or vinyl, and can be designed with open or latticed roofs to control the amount of sunlight filtering through. They can be adorned with climbing plants or fairy lights, creating an enchanting atmosphere for outdoor dining or lounging. Consider adding a dining table, comfortable seating, or even a hammock under your pergola for a relaxing outdoor living area.
Other Outdoor Space Considerations
When designing an outdoor space, it's essential to consider each addition's functionality and aesthetic appeal. Let's look at some of these considerations to ensure your outdoor living area is not just beautiful but also practical and enjoyable throughout the year.
Lighting: Incorporate various types of lighting, including ambient, task, and accent lighting, to create a comfortable and well-lit outdoor space. Think about adding string lighting or lanterns for ambiance and safety.
Airflow: Proper airflow is crucial in Charlotte's hot and humid climate. Consider installing ceiling fans to ensure a continuous circulation of fresh air.
Electrical needs: When planning your outdoor space, think about any electrical needs you may have now and in the future. This could include outlets for appliances, string lighting, ceiling fans or a dedicated power source for an outdoor refrigerator.
Water features: Adding a water feature, such as a fountain or waterfall, can transform your backyard into a serene retreat. The sound of running water adds to the ambiance and has been shown to reduce stress and promote relaxation.
Storage: Consider adding storage solutions for pool toys, gardening tools, and outdoor cushions. This will help keep your outdoor living area clutter-free and organized.
Insect control: To keep pesky insects at bay, consider installing retractable screens or adding citronella candles or plants to your outdoor space.
Fire pits and fireplaces: A fire pit or fireplace is a fantastic addition to any outdoor living space, providing warmth and creating a cozy ambiance. It also allows you to extend the use of your outdoor space into the cooler months.
Privacy: Depending on your backyard's layout, you may consider incorporating some privacy features into your outdoor living space to create a more intimate atmosphere for your and your guests. This could include a fence, hedges, or tall landscaping to create a secluded and intimate atmosphere.
Color Scheme: Choose a color scheme that complements your home's exterior and creates a cohesive look for your outdoor space. Consider incorporating pops of color with throw pillows, rugs, or planters.
Maintenance: Select materials and furnishings that are durable and require minimal maintenance (and storage, unless you have it) to ensure your outdoor space stays in top condition without constant upkeep.
Whether hosting family barbecues, sunbathing by the pool, or simply enjoying your morning coffee in a tranquil setting, a well-designed outdoor living space can significantly enhance your home's functionality, aesthetic appeal, and overall value. We can help you design the perfect outdoor living space to give you a Life Remodeled.