6 Signs It's Time to Remodel Your Kitchen
Your kitchen sees more foot traffic than any other room in the house. That's why your kitchen must be functional and inviting. In fact, the kitchen is considered the heart of the home, where people gather to eat and chat at the end of the day. Let's look at six signs it's time to remodel your kitchen to serve your family's needs better.
1. Outdated Appliances
Do you have appliances that are broken, unreliable, or outdated? If so, it's time to start thinking about remodeling your kitchen. Newer appliances are designed with efficiency in mind, and you'll save far more on your energy bills each month. Even better, new, energy-efficient appliances will usually add value to your home!
2. Dated Design
An outdated kitchen can be a deal-breaker for potential buyers, and you deserve a space you love. If your kitchen needs a facelift or the space no longer works for your needs, it's time to start thinking about a remodel. A professional team can redesign the layout of your kitchen so the entire room is more spacious and functional.
When it comes to kitchen design, your options are endless. We'll help you choose new cabinets and countertops that offer a fresh, modern look and a backsplash that really pops. From new appliances to updated fixtures and finishes, we'll help you customize your kitchen to reflect your personal style while offering functional space for your family to enjoy for years to come.
3. Lack of Storage Space
Many old and outdated kitchens don't have a lot of storage space. Remodeling your kitchen with help from a professional team can provide storage solutions that also update the look of your kitchen. We'll customize your cabinets to suit your needs and provide enough space for all your plates, cups, small appliances, and serving ware. Small, unused areas make the perfect places to add a few shelves, and if room allows, your design team can create a pantry for even more storage space.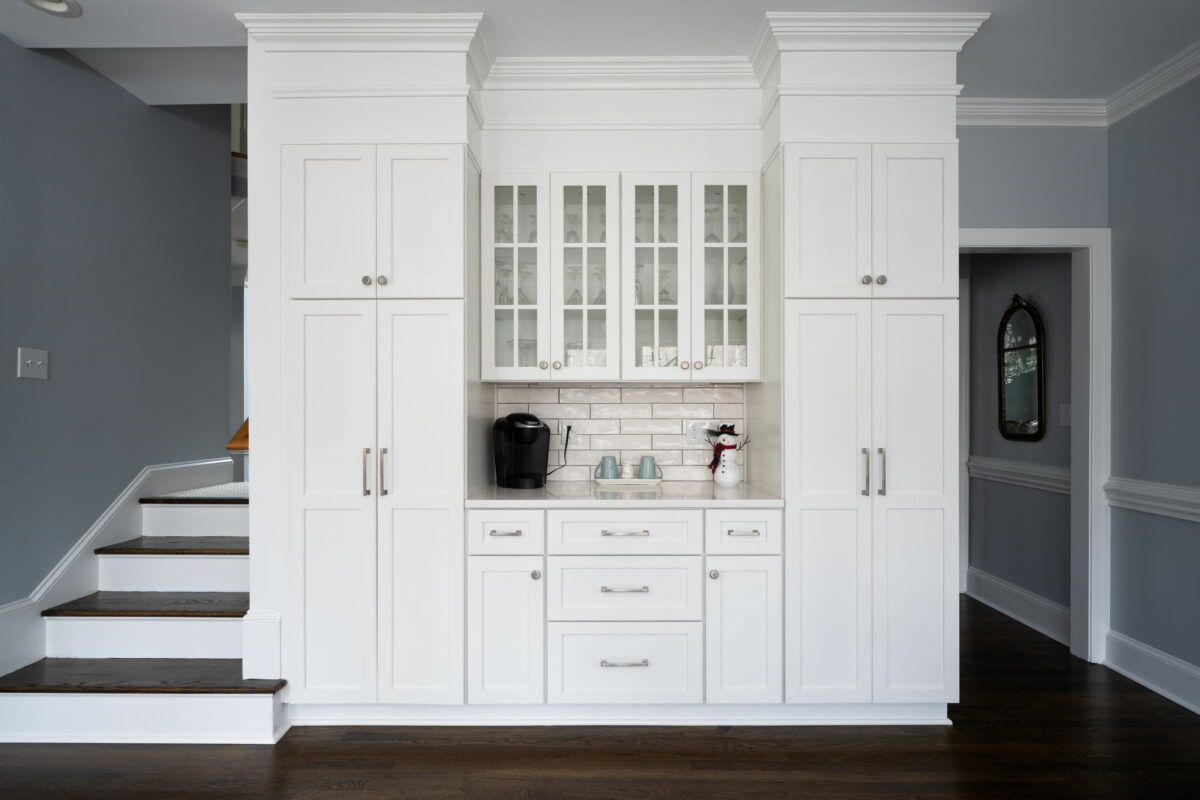 4. Wear and Tear
A kitchen is a functional workspace where homeowners prepare and serve multiple meals daily for their families. Meal prep and cooking can wear down even the most high-quality surfaces, making them look dirty and worn. If your kitchen surfaces show their age, consider a remodel. With an expert's help, you can select new countertops and flooring that look bright and clean, so you can be proud to host the next dinner party. Choose a backsplash that ties everything together for a fresh,  modern look.
5. Lifestyle Changes
As your family grows and your lifestyle changes, you may find that your kitchen doesn't meet your needs like it did before. You may have family members that require more space and certain accommodations for your kitchen to be functional and accessible. Remodeling your kitchen allows you to customize it to fit your family's needs now and for the future.
6. Resale Value
Kitchen remodels increase the resale value of a home, and the condition of your kitchen can make or break a sale. If you're considering selling your home soon, a kitchen remodel may be a wise investment.
Update Your Charlotte, NC Kitchen With GJK Remodeling
If you're thinking about remodeling your kitchen, your first step should be to schedule a consultation with a professional remodeling firm. That way, you can get expert advice on the best ways to update your space that will provide you with the highest ROI while meeting your current preferences and needs.
Our team at GJK Remodeling has years of experience in the industry, and we're happy to consult with you to determine if you have signs it's time to remodel your kitchen (or other areas of your Charlotte home). If you are ready to get started, contact the professionals at GJK Remodeling to begin your journey toward a Life Remodeled.